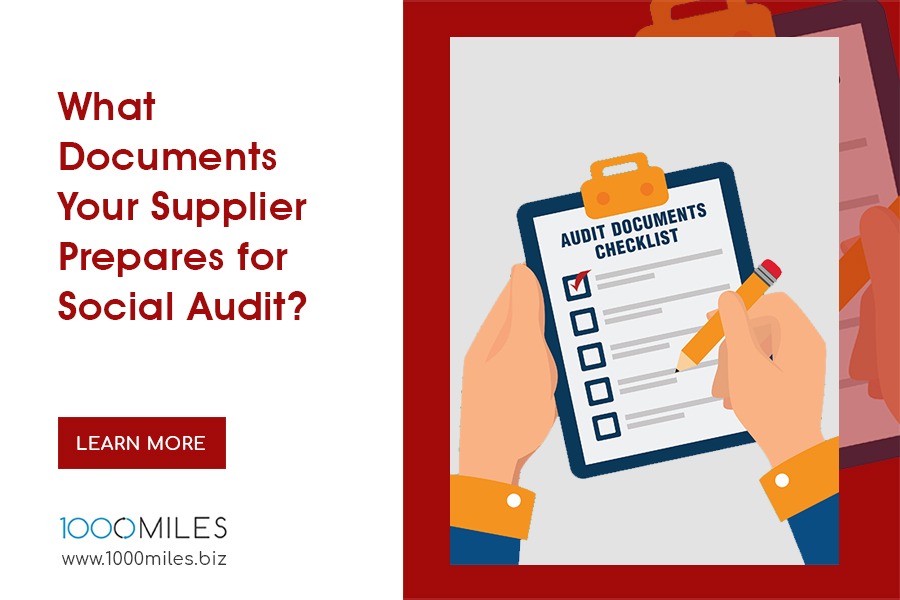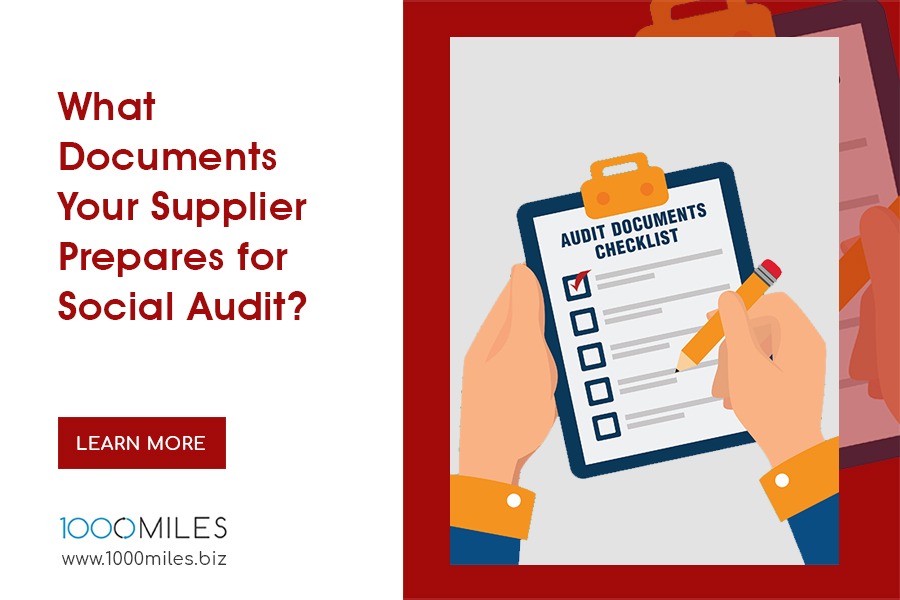 What Documents Your Supplier prepares for a Social Audit?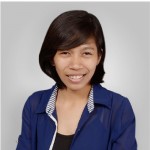 Are you willing to do what it takes to maintain customers trust in your brand?
Conducting a Social Compliance Audit can be costly and time-consuming. Hence, a necessary preparation must be done so as not to waste these resources.
The documents that suppliers prepare before audit depend on the required framework they have to meet.
Auditors normally shares an audit checklist that lists down the documents and facility setup that suppliers can prepare before the site visit. This way, suppliers will have the guide to ensure that they comply with their customer requirements or on the international framework standards.
What to prepare?
A social compliance audit may uncover opportunities for improvement in a number of areas. Regardless of which Social Standard, we'll tackle the general documents your suppliers should prepare for a Social Audit.
1. Child Labor
Child labor is a complex issue with different social, economic and political causes. Using child labor in your supply chains can be one of the most damaging labor right issues that can ruin your brands reputation and cost you money as well.
Below are the documents your suppliers need to prepare to ensure that this criteria is being adhered to.
DOCUMENT CHECKLIST
Recruitment Policy
Outlines the methods for hiring workers. This should include guidelines to ensure that no child is recruited for employment.
Personal Information Form
Contains relevant data information ensuring that suppliers' don't engage in Child Labor.
Certificate / National Identification Card
Supports the validity of Personal Information form of workers. Details such as age and Date of birth can be crossed checked ensuring no child is employed within your Supplier's workplace.
Child Labor Policy
Helps to check whether a Policy exists prohibiting the use of Child Labor.
2. Forced or Compulsory Labor
Forced or Compulsory Labor according to ILO's Forced Labor Convention, is any work or service exacted from any person under the threat of punishment and for which the person has not offered to do voluntarily.
In relevance to this prohibition, your suppliers should prepare:
DOCUMENT CHECKLIST
Contract
Contracts signify agreement between your supplier and its workers, which should be respected by both parties. This helps to check that workers are not forced for employment.
Employee Handbook
Helps to check if a guideline exists prohibiting the use of Forced or Compulsory Labor.>
Code of Conduct
Code of conduct outlines a set of rules of your supplier's day to day operation. This should include the prohibition of Forced labor.
Company Orientation
Through a Company Orientation, information such as the policies regarding discipline, promotions, quality, and vacations, and regulations regarding health, safety, and security rules are made known.
Resignation Letters
Letters of resignation demonstrated workers right to leave provided that they give reasonable notice to the company.
3. Freedom of Association & Right to Collective Bargaining
As per a Social Standard, all staff have the right to form, join and organize trade unions and to bargain collectively.
Suppliers may prepare a Trade Union Policy which outlines the collective agreement to bridge the conflicts and address the concerns of workers in your supplier's workplace.
A suggestion box can also be a good practice of supplier's to address their worker's concern.
For some countries like China, workers in China are not free to form or join trade unions of their own choosing unless affiliated with the one legally-mandated body, the All-China Federation of Trade Unions (ACFTU). Although generally, most of the social compliance frameworks still encourage companies to establish some means for workers to raise their concerns.
4. Discrimination
Discrimination in a workplace can prevent the hiring of qualified and competent workers.
A social compliance audit prohibits discrimination based on origin, caste, race, religion, gender, political affiliation, and other attributes. Noncompliance to this requirement is proven to be costly.

Take for example the Coca Cola Company which had the largest settlement ever in a corporate racial discrimination case regarding lower pay, less promotions, and poor performance evaluations for their African-American employees, in which they agreed to pay $ 192 million settlement in year 2000.
To avoid such legal claims, suppliers should prepare the following:
DOCUMENT CHECKLIST
Recruitment Policy
To check whether Supplier's recruitment policy covers the prohibition discrimination of any forms in the workplace.
Job Description
Job description describes the duties and responsibilities of a particular job.
Employee Handbook
To check if there are rules existing as to avoid discrimination in the workplace. In the event that such issue arises, it should include the necessary corrections.
Organizational Chart
Organizational Charts display an internal structure within your suppliers' factory.
5. Disciplinary Practices
As every social compliance framework believes, workers should be treated with dignity and respect.
To ensure that your supplier's are respecting these rights it should be reflected in the following documents:
DOCUMENT CHECKLIST
Company Orientation
A company orientation is a method of letting the employees know of the existing policies including the disciplinary practices implemented when a misconduct occurs in the workplace.
Employee Handbook
Helps to check if the disciplinary practices enforced in the workplace are not inhumane.
Warning Letters
Warning letters presents fairness of a disciplinary process in the workplace by giving the employee a fair and reasonable opportunity to amend his/her misconduct.
6. Remuneration
Social compliance auditors investigate whether suppliers are paying employees a living wage. Wages should cover workers' basic needs and allow for discretionary spending. Suppliers must also comply with local laws for mandatory income withholdings, such as Social Security and taxes.
Below are the documents needed to be prepared.
DOCUMENT CHECKLIST
Salary Structure
To check transparency and fairness whether worker's salary or wage, are aligned to the standard as prescribed by applicable laws.
Timesheet
To check if working hours are acceptable.
Overtime Form
To check if overtime is within acceptable hours. Cross-checked with the timesheet and the pay slip.
Leave Records
To check if workers are entitled for a leave.
Insurance
To verify if the workers are covered by insurance as mandated by relevant laws.
Pay slip
Details the breakdown of the employee's salary.
7. Health & Safety
The ILO estimates that around 340 million occupational accidents and 160 million victims of work-related illnesses occur worldwide annually.

Suppliers must provide a safe and healthy working environment to its workers.
To ensure that this requirement is met, Suppliers will need to provide the following documents for the Auditors to check and verify.
DOCUMENT CHECKLIST
Health & Safety Policy
Health & Safety policy details the potential risks and hazards, the safety and preventive measures needed in the event of an accident occurring in the workplace. This is to ensure that safety of workers are placed in high priority in your supplier's facility.
Training Records and Attendance
Conducting health & safety training imparts knowledge and awareness to the workers. Training and attendance records are supporting documents that such training has taken place in your supplier's facility.
Fire Drill Procedures
To check if there are existing procedures and measures in the event of a fire accident.
Safety Office Certificate
Safety Office Certificate verifies that correct standards have been met by the Company.
MSDS
A Material Safety Data Sheet (MSDS) is a document that contains information on the potential hazards (health, fire, reactivity and environmental) and how to work safely with the chemical product.
Accident Reporting Procedure
To check if an established procedure to report accidents exist in the workplace.
Accident Records
These are records pertaining to the accidents that have taken place in your supplier's workplace which can be used as an aid to risk assessment, helping to develop solutions for potential risks. Accident Records also help to prevent injuries and ill health, and control costs from accidental loss.
A Social Compliance Audit plays a vital role in the world of business regardless of the industry.
Given a glimpse of the preparations that your supplier's need to prepare will allow you to get a better understanding of how they conduct their day to day operation in regard to how they treat their workers.
It is also important to note that the documents mentioned above are generally the documents required in a Social Audit. However, additional documents might be required depending on the standard to be complied. Hence, a thorough research, preparation and organization of other relevant documents can be helpful.